My awesome wife brought home an iPad Mini for me last night. :)
My super quick review….  pretty much like most other reviews…
Kicks butt!! Â The nerds out there who complain about the non-retina screen, I partially agree with. Regular people won't care. The nerds complain about the older processor (iPad2 cpu, etc), I agree its not quite as fast as iPad3. Again, only the geeks care. Â iPad Mini is also way too expensive if you want LTE and extra memory. Most people will care about that one. Â But if you get 16G wifi only, its not *too* bad, and personally, I love what I get in an i-ecosystem over Android or Windows. (one could argue that to death tho, so just leave it as a personal thing.)
But here's what I think. Â The size and comfort and ease of use is so great, it vastly outweighs the issues people complain about. Â I find myself constantly reaching for the Mini over the large one already. Â You won't believe how small (yet not too small!) and how nice this feels to hold and use!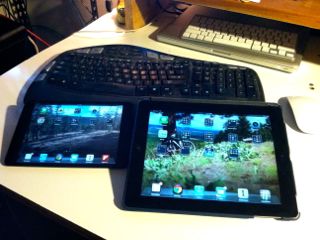 I do think I will still use the large one quite a bit, but depends what for. Â For *work* stuff, like emailing, server remote ssh, or things I need to do more typing on, or things where a larger view is more helpful, I'll definitely use the iPad3. Â It is slightly faster, and that large screen is nice for some things. Like photo editing and stuff, will be nice here. Â Typing on the iPad Mini is just fine for me, but its slightly smaller size isn't quite as easy. Â I found, once I got used to it, typing on the iPad 3 (or iPad Large) screen is pretty easy and quick, but the Mini's size is just a little small for speed use. Not that I go fast at all, just easier to move a little quicker on the larger screen. For any reading, web research, or video watching, and a lot of gaming (but not all) I'll prefer to use the mini. Â Just depends, but I am finding, 9 out of 10 times I want to grab the iMini. Â Its by no means slow and it is so perfect for casual or mobile use. Â I can't wait to take it out on the town for work visits.
Quick note about games on the iPad Mini. I played the new Wraithborne game, Autumn Dynasty (an RTS game), and Galaxy on Fire 2 HD. Â They all play great on it, no slowdowns or issues. Â The only real slowdown I ran into was in the iTunes store! Â But that's slow even on my iPad Large. :)
BTW, I got the 32G with Verizon version.