Had to spend a few minutes reminding myself how to configure this. Easy as pie! Even works with images now!!! Yay!
While in a "New Blog" in Word 2007, click the Manage Accounts buton. (A wizard will probably start the process the first time you do this, but here's the manual way.) This assumes you already have a WordPress blog setup, of course. I tested this with my own WordPress installation, on my own web host, so I am not sure if this works the same with "WordPress.com", but I would assume so.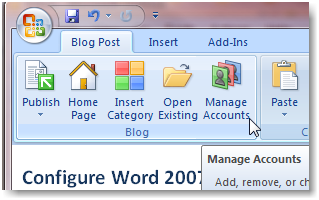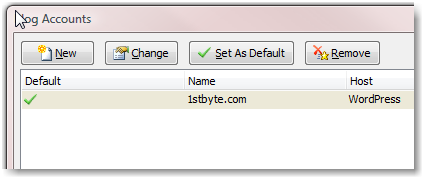 In the Blog Accounts, you can click New or Change.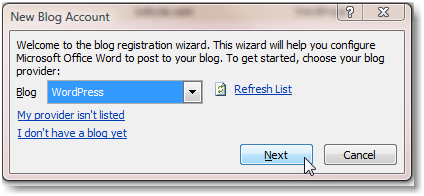 In the next screen, enter your domain URL and make sure it ends with /xmlrpc.php.
Add your username and password, and for me, I like to Remember, but that's up to you.
Then click Picture Options.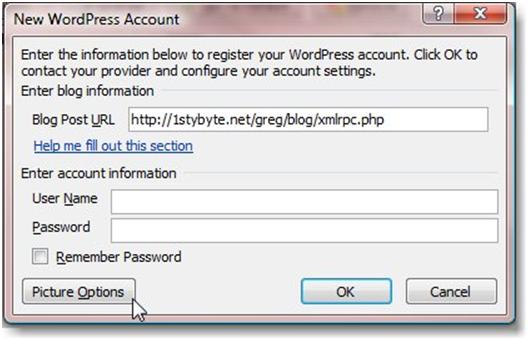 Make sure you have selected "My Blog Provider", and click OK.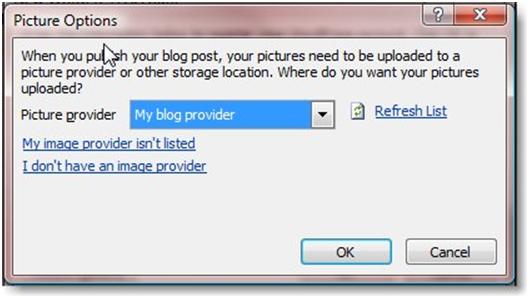 Then you'll be back at the New WordPress Account windows, just click OK.
You should see a message that "Account created successfully" or something like that. If not, the errors are not very helpful, but when I did get one, it was just that I didn't enter the right password. And remember, this will be the username and password IN YOUR WORDPRESS system, NOT your hosting system. (stupid mistake I made, I knew better!)
One thing I don't see how to do, is select the account I want to publish to within Word, besides the obvious "default" setting. Maybe I need to do that in each doc. I will post when I test it.
EDIT: Duh! Right in Word, at the top of the doc is an Account selection. Just select the account for the blog, if you have more than one.